As Long As You're Mine
Comments

2
248pages on
this wiki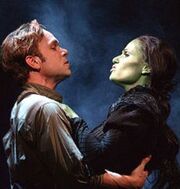 "As Long as You're Mine" is a musical number from the hit Broadway musical Wicked. It is a duet sung between Elphaba (the Wicked Witch of the West) and her love interest, Fiyero. It was originally sung by Idina Menzel and Norbert Leo Butz, who played Elphaba and Fiyero in the original Broadway cast. Menzel would later on win the Tony Award for Best Actress in a Musical.
As Long As You're Mine has been translated into German, Solang Ich Dich Hab, for the production, Wicked Die Hexen Von Oz, where the title translates to As Long as I Have You. It is also translated into Japanese, Futari Wa Eien Ni, in the Wicked in Tokyo production, having a translated title of You and Me Forever. The recent Dutch production featured this song with the title of Dit ene moment, translated to This one moment.
The song is performed in Act 2 of Wicked. In the song, Elphaba and Fiyero express their new found love for one another, while knowing that it may not last as Elphaba has become a fugitive. After the song, Elphaba rushes to help her sister Nessarose (the Wicked Witch of the East), whom she believes to be in trouble.
In the original San Francisco run, Fiyero's begining lyrics were:
"What am I doing,
What's this I feel?
The boy who was certain,
That love isn't real."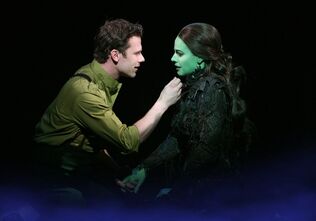 In the London production, before Elphaba says "It's just for the first time...(etc)" the actress adds "Nothing, nothing" when Fiyero asks "What is it?"
ELPHABA:
Kiss me too fiercely,
Hold me too tight,
I need help believing;
you're with me tonight,
My wildest dreamings,
Could not forsee,
Lying beside you;
With you wanting me
And just for this moment;
As long as you're mine
I've lost all resistance
And crossed some border line
And if it turns out; It's over too fast
I'll make every last moment last
As long as you're mine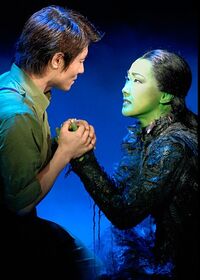 FIYERO:
Maybe I'm brainless;
Maybe I'm wise
But you've got me seeing
Through different eyes
Somehow I've fallen
Under your spell
And somehow I'm feeling;
It's up that I fell
BOTH:
Every moment;
As long as you're mine
I'll wake up my body,
And make up for lost time
FIYERO:
Say there's no future;
For us as a pair
BOTH:
And though
I may know; I don't care
Just for this moment;
As long as you're mine
Come be how you want to,
And see how bright we shine,
Borrow the moonlight
Until it is through
And know; I'll be here holding you
As long as you're mine
FIYERO (spoken):
What is it?
ELPHABA (spoken):
It's just for the first time,
I feel ...Wicked!