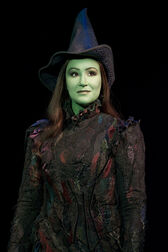 Anne Brummel has recently taken the role of standby Elphaba in the Broadway production of Wicked.
Biography
Edit
Brummel first joined the Wicked cast in the Chicago production, as an understudy for Elphaba and ensemble member. After that production closed, she joined the 2nd National Tour cast (again as an understudy for Elphaba) and eventually was promoted to Standby before assuming the role full-time in 2011. She performed with Natalie Daradich and Tiffany Haas as Glinda. She was replaced in 2012 by her former Standby, Christine Dwyer. In February 2014, she replaced her former-standby and former-replacement Christine Dwyer as standby Elphaba on the Broadway company of Wicked, while Christine Dwyer took over the role of Elphaba full time in the Broadway production. In 2013 Brummel is now the standby for Elphaba on Broadway, with Christine Dwyer as Elphaba full time.
Brummel has toured with Cats, Scarlet Pimpernel, Funny Girl, and Evita in which she performed the lead Eva Peron. Regional productions have also included Civil War, Fiddler on the Roof, Big, and other productions of Evita.