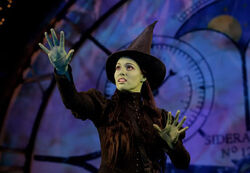 Amanda Harrison was part of the original Australian cast of Wicked.
Biography
Edit
Harrison played the role of Elphaba from the show's opening night in Melbourne on 12 July 2008, until its closure on 9 August 2009. Towards the end of the Melbourne run and beginning of the Sydney run, Jemma Rix, the show's standby Elphaba, temporarily played the lead role due to Harrison being unable to perform. She later reprised the role when the production transferred to Sydney from 12 September 2009. She took an extended leave of absence from 5 November 2009, with an expected return in March 2010, however on 9 February 2010, announced she would not be returning the role. In effect, the role was shared between Jemma Rix and Pippa Grandison; later Rix and Patrice Tipoki.
Ad blocker interference detected!
Wikia is a free-to-use site that makes money from advertising. We have a modified experience for viewers using ad blockers

Wikia is not accessible if you've made further modifications. Remove the custom ad blocker rule(s) and the page will load as expected.