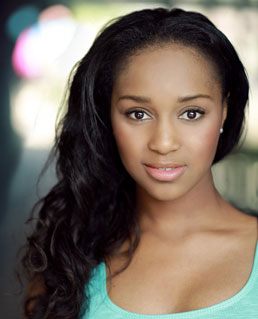 Alexia Khadime is an English born actress and singer, who has had several television and theatre rolls. She is mainly known for her role as Elphaba in the London production of Wicked.
Biography
Edit
Alexia was born in North West London, England on the 9th June 1983. She began her theatre career in 1999, staring in Cinderella, but made her main break-through in 2004, where she played the role of Nala until 2008.
Following this, Alexia played her most high-profile role as Elphaba in the London production of Wicked. She co-starred alongside Dianne Pilkington as Glinda. She played Elphaba from June to November in 2008, whilst Kerry Ellis had left on a temporary basis to portray Elphaba on Broadway. In May 2009, Kerry decided to leave Wicked permanently (until her return in 2014). Alexia resumed the role of Elphaba until the termination of her contract on the 27th March 2010, and was replaced by Rachel Tucker. In addition to this, Alexia and Dianne Pilkington were honoured as Women of The Future at the annual Woman of the Future Awards in 2009.
Since Wicked, Alexia has performed in several other roles such as Harmonia in Welcome to Thebes and Deb in Ordinary Days. Her next major role was when she replaced Samantha Barks as Eponine in the London production of Les Misérables in June 2011 - June 2012.
She also appeared as a special guest on OMG! Jedward's Dream Factory. During the show Aoife Dardis requested her dream - to see Les Misérables on stage in the West End and to meet her favourite actress (Khadime).
In 2012, she appeared as Wench in film production of Les Misérables.
Alexia began playing the role of Nabulungi in the original West End transfer production of hit Broadway musical The Book of Mormon, which began in 2013, of which Alexia is still portraying.
Alexia is also currently part of the assault course style kids game show, Splatalot! as a regular Defender and Defender Leader, Madeva, sister of former lead Defender, Knightress.